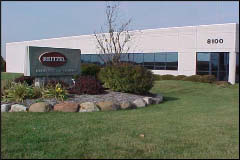 Reitzel Construction Co. has gone through an extensive evolution through the years. The original foundation for this company began in 1964 as J.W. Ericson Construction Co. In 1970, William D. Reitzel joined the J.W. Ericson Construction team. Further on, Mr. Reitzel was named President and became a stockholder in the company. In 1987, Bill obtained sole ownership of the company and changed its name to Ericson-Reitzel Construction Co. During that time, Mr. Reitzel served a term as President of the Northern Illinois Building Contractor Association. In 1995, Ericson-Reitzel was revised to its current name of Reitzel Construction Company.
Since that time we have consistently expanded our clientele base, while maintaining prior customer from the previous companies. We have continued to engage in the construction of commercial and industrial buildings. Reitzel Construction also has an expanded road construction division that includes site concrete, concrete curbs, and concrete pavement.
Reitzel Construction Co. has been recognized by the Northern Illinois Building Contractors Association (NIBCA) for their work, including:
1996 Award of Excellence for the Riverside Community Bank
1994 Master Award for Rockford Area Association of Realtors Building
1994 Award of Merit for EastBridge Retail Centre
1992 Master Builder Award for the renovation of Rockford's historical Memorial Hall
Today, Reitzel Construction Company is proud of its expanding list of accomplishments. Reitzel Construction continues to grow within this industry and is always striving for infinite quality and service. Particular care in detail and performance in every division of construction remains a number one priority regardless of the diversity of the construction projects today.
Reitzel Construction Company is an Equal Opportunity Employer. Our company also has a strong policy on Substance Abuse and Sexual Harassment.